Build Mobile Websites In Minutes!
Introducing a suite of different mobile wordpress themes you can use for your own sites. Or if you buy all themes, then you can use them also on client websites.
Each theme is highly customizable within the theme options… so you don't have to know any html code.
Watch the video on the left to see a theme in action!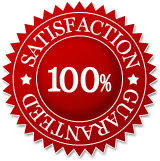 100% Satisfaction Guarantee
Try any or all themes for up to 30 days risk free. During that time for any reason – or no reason at all – you want your money back… just contact Support and we'll promptly and quietly return every penny of your purchase.

Backed By 12 Person Support Staff
We have a dedicated support center just for WP Mobile Pro clients with 12 members – including programmers – to aid you with any support you may need. Feel confident knowing you will be taken care of if the need arises.
WP Mobile Pro Sample Sites
Below are just a few examples of mobile sites built with WP Mobile Pro's different themes. It is important the keep in mind that each theme offers a virtually unlimited number of design possibilities, so you can can pick the theme and then customize to meet your specific needs and design choices!

When You Buy the Complete Suite You'll Also Get These Bonuses
Mobile Client Prospecting Guide
Want to know how to earn up to $1500 by tomorrow? This guide shows you how to find local businesses who are desperate to pay you to create simple little mobile sites for them. Included is the Flash Technique, The Groupon Method, The Local Adwords Tactic and more!
Mobile Graphics Pack
These are graphics we paid hundreds of dollars for to get the rights to…and then tweaked them to make them mobile specific. These include tap to calls, coupons and more.
All images are optimized for mobile.
Mobile Detection Plugin & Scripts
A mobile detector will automatically serve the mobile version of a site to mobile visitors, and the regular version of the site to regular visitors. You get both a script to use for regular HTML sites and a plugin for wordpress sites!
Client Prospecting Emails
These are a series of emails you can almost copy and paste word for word to potential clients to make sales for you. These have been tested and proven to work on a variety of different local businesses!
Mobile Computer Hacker
This video tutorial will show you how to "pipe" your iPod or iPhone device onto your computer, so you can screen capture your mobile device, show it on webinars and web meetings and a whole bunch more!
Ultimate WordPress Tutorial
Since these mobile themes are wordpress based, we've also a complete wordpress tutorial on not just how to use these mobile themes, but it also wordpress in general!